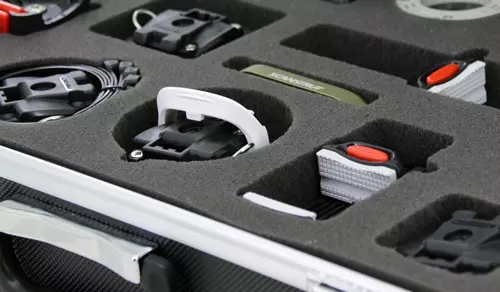 Design Process
We pride ourselves on providing high-quality storage solutions to all sectors.
Our Case Experts will work with you from the initial stages of enquiry, helping to develop your ideas into a finished design.
We're able to offer a range of specialist case options such as external branding on flight case panels and custom CNC foam inserts.
Please complete the below form with your requirements and one of our team will be in contact with you shortly.
Flight Case Branding

Your brand is important to you. As part of our comprehensive Custom Case Service, we are able to offer custom case branding to suit your needs.
It can be applied in various formats depending on the budget or turnaround requirement.
This can be logos, text or full-colour images. Our previous work has included projects for clients in the Aerospace, Infrastructure and Retail sectors.
Custom Foam Inserts

For your items to remain stable and secure, custom foam inserts fit perfectly inside our Flight Cases and Hurricane Cases, allowing you to easily transport your goods securely from one location to the next.

Using CNC cutting allows a high level of accuracy with a wider range of options compared to other types of foam cutting. Unlike other methods, it allows us to create stepped pockets and very accurate intricate shapes, for organised and fitted storage.

For more information about CNC Foam Cutting Service, please contact us with your requirements.
A minimum of 40pcs is required depending on the design, the lead time is approximately 5 weeks.